BIG NEWS.
We have launched our first CancerQ product, The CQ Dashboard in partnership with LIFT Creations!
When our family faced cancer, there were some major challenges we encountered. Do any of these sound familiar?
There is no good place to organize all the resources, links, files, and notes you are being provided, collecting, sharing, and researching.
There is no good starting point each day, no good cancer fighting home base or headquarters. Too often we were immediately turning to Google or WebMD or checking email.
It took a lot of time to read through countless articles, communities, posts, and forums to find the right, credible information.
We found ourselves looking for all the others who had been through a similar diagnosis. What tools did they use? What information did they find helpful? Where was all their knowledge and experience stored?
And finally, we wanted a place that truly felt like it had our best interest in mind. That they were actually listening to our needs as patients, caregivers, friends, and family.
This place didn't exist, so we built it.
The CQ Dashboard Web Application allows families currently facing cancer to get organized, reduce stress, and save precious time. By allowing users to collect and share resources, upload their own private notes, copy and paste links, upload files, and connect with others who have similar cancer specific experiences, the Dashboard will quickly become your cancer fighting headquarters, or your CQ.
The dashboard also allows any user to learn from our vetted, hand-selected resources provided by leading cancer medical centers, researchers, leading authors, non-profits, foundations, and more. We have over 40+ resources organized by our 8 Wheel topics that are easily searchable, tagged, and allow you to save directly into your private Saved Posts. These resources have been researched and chosen by our team, Advisory Board, and CancerQ Ambassadors.
Here is a live look at our CQ Dashboard (click to scroll):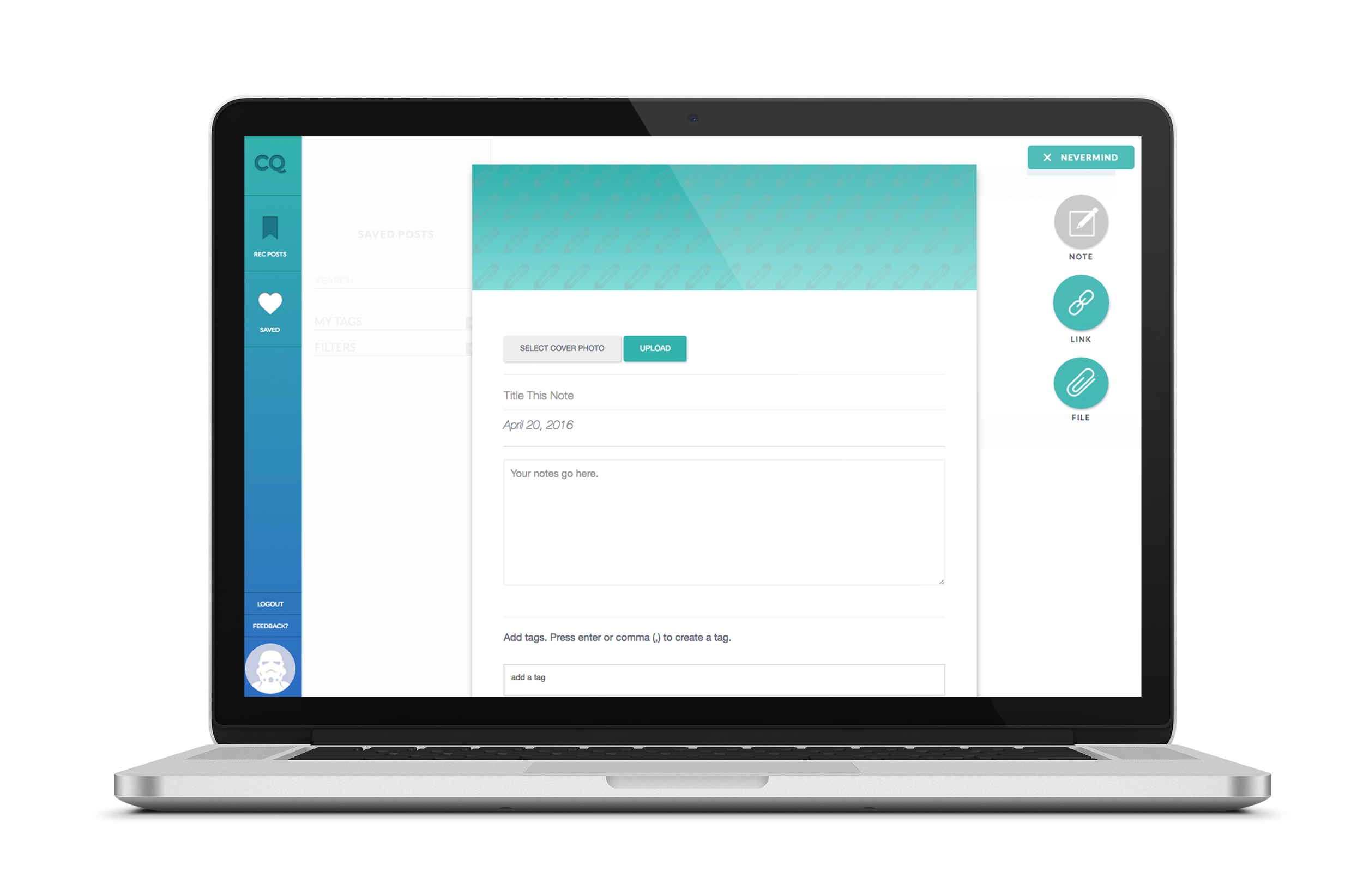 Now, even more news! There are four ways in which a user can access our CQ Dashboard:
Are you currently facing cancer? Create an account now to get you and your family organized, prepared, and together for your cancer journey.

Do you know someone facing cancer & want to help them now? Enter their information and purchase access to the Dashboard on their behalf. They will be emailed a login and have instant access to get organized and moving quickly.

Want to purchase a CQ Dashboard license for someone you don't know and 'Pay it Forward'? Purchase for the general good and we will reach out to individual families facing cancer. Your purchase will grant them free access for a year. (Please check "Purchase Anonymously")

Have valuable resources & tools to share? Sign up and for 30 days you can enter all the resources, sites, links, documents, & more that you found most helpful in your cancer journey. This will contribute to our database as we vet and recommend to the wider community.
The Dashboard is priced at $30 per user for an entire year. We also have group and family plans that allow you to add up to 4 additional users for only $5 per additional user. This allows you to sign up 5 users for only $50 a year. Click below to sign up / or purchase on behalf of someone else:
We built this tool for you, because we wished it existed when we faced cancer. Every detail was built with the family in mind. We know it will continue to grow, evolve, and change with you.
- The CancerQ Team